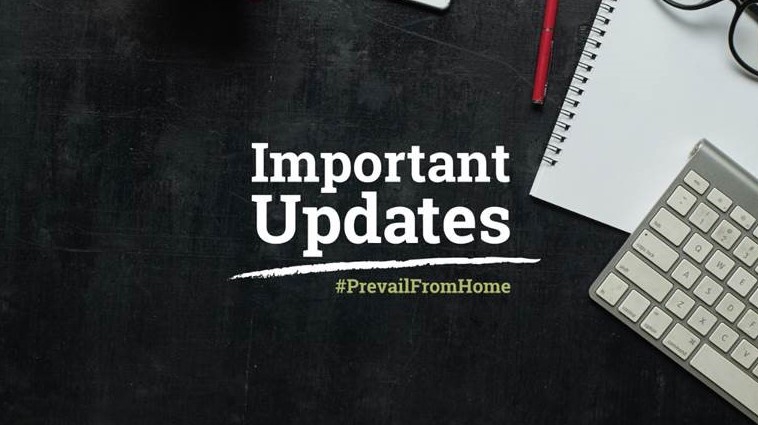 3/27/2020
Dear Customers,
While the Safe at Home order is in place, we will continue to support our customers and communities. We have been a strong community bank since 1934 and will prevail through this current challenge.
Banking is an essential business and we are open. You can bank with us through these channels:
Drive-Up hours as of March 27, 2020 by location

Baraboo, Eau Claire, Medford, Marshfield, Wausau, Stevens Point, Wisconsin Rapids, and Phillips:

Monday - Friday 8:30 a.m. through 5:00 p.m.

Owen location:

Monday - Thursday from 8:30 a.m. through 4:30 p.m. and Friday 8:30 a.m. - 5:00 p.m.

Lobby access remains suspended at this time.

ATMs are available at our Baraboo, Medford, Phillips, Stevens Point, Wausau and Wisconsin Rapids locations. Use your Prevail Bank debit card at participating surcharge free ATMs for easy access without a charge. For example, Kwik Trip ATMs or any listed ATM in our ATM Access network are free.
Personal and Small Business Online Banking and Mobile Banking allow you to transfer money, pay your bills, deposit checks through your mobile device, view all of your account information at a glance, and more.
Business Resource Manager will allow your business to do more from your home or work office.
We have our mortgage rates and applications online for you to take advantage of.
Continue to work with your local Mortgage Loan Originators through phone calls and emails, as you have in the past. If you feel that you are being financially impacted by this pandemic, please reach out to your lender to discuss your current situation.
Your Commercial Lenders are available to contact through phone calls and emails. If your business is negatively affected by this pandemic, please reach out to your Business Banker to discuss your current situation and options.
We are happy to answer your questions and support you during this time as well by calling us at 800.205.0914.
Your Money is safe at our bank!
Prevail Bank is a member of FDIC. Our deposit accounts carry FDIC insurance, which provides additional safety to our customers. Prevail Bank is well-capitalized and well-positioned to handle the uncertainty associated with this pandemic.
When you deposit your money at our bank, you get the comfort of knowing that your funds are secure and insured by the government.
You do not have the same level of protection when your money is outside the banking system.
Uncertain times are exactly when you want the certainty and dependability of knowing your money is secure at the bank.
We do have options for you with large deposits. We can work with you on how your accounts are titled to make sure you have the full $250,000 FDIC Insurance per depositor. We also offer CDARs and Insured Cash Sweeps to help with having your deposits covered by FDIC Insurance for personal or business needs.
Thank you for being patient during this time of uncertainty. We are seeing many wonderful people working together to help offer assistance. We are proud of our staff for working together and helping others during this time of change. This power of teamwork will help us bring brighter days to our future together. Thank you for your business and we look forward to your continued relationship.
Stay safe and healthy,
William Weiland
CEO & President at Prevail Bank