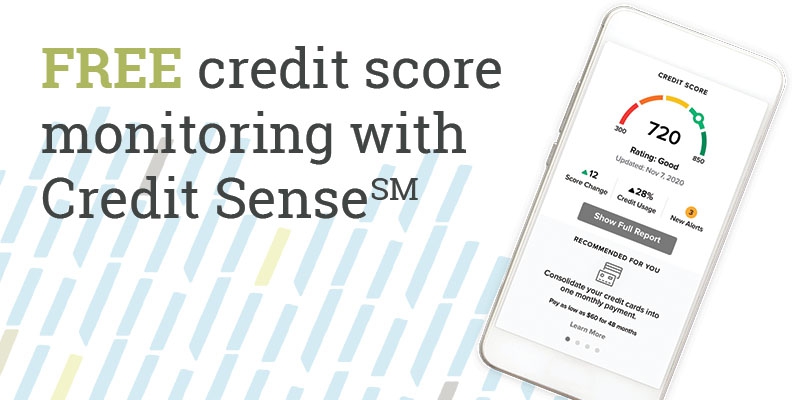 Monitor Your Credit Score for Free
Monitoring your credit score is a crucial part of taking control of your money management. Your credit score impacts almost all aspects of your life. From qualifying for a credit card, getting a lower rate on a loan, to finding a place to live. With Credit Sense, you can monitor your credit health, tips for improving your credit score, access helpful tips to calculate savings from consolidating, refinancing, etc., and more, all for free!
Benefits of Credit Sense
Instant credit score access and tips for improving your credit score.
Receive pre-qualified offers and savings tips.
Access to helpful educational tools to improve your financial management.
Credit report monitoring and real-time alerts.
How Does Credit Sense Work?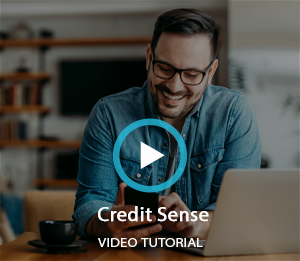 How to Sign Up for Credit Sense
Register for or log in to Online Banking and click on Credit Sense.
Download or log in to your Mobile App.
Click on 'My Credit Score' found on either your 'Accounts' screen or under the 'More' menu.
Fill out some personal information.
Review the disclosure and approve.
Get started monitoring your credit score!
Download our Mobile Banking App
Enroll in Online Banking
Your Credit Score is beneficial for everything from renting an apartment to buying a home, car or even landing your dream job. Know your Score, and work to improve it easily using Credit Sense.
Credit Sense FAQs
What is Credit Sense?
Credit Sense provides credit score information that helps make your credit rating more understandable. It also helps you learn how the information on your credit report translates into a score.
How can Credit Sense help me?
Credit Sense does much more than simply show you your Credit Score. It also offers a wide array of tools that can help you improve your Score:
A free Credit Score.
Analysis of each component of your score so you know where it comes from.
Clear, simple explanations of factors that impact your score.
A calculator that shows how purchases, payoffs and other decisions will affect your score.
Is Credit Sense really free?
There is no cost to you whatsoever for the Credit Sense credit score services.
Is my information safe with Credit Sense?
Credit Sense uses industry-standard security practices to protect your data.
Is my Credit Score affected when I use Credit Sense?
Using Credit Sense will never directly impact your credit score. When Credit Sense accesses your credit file information, it results in a "soft inquiry" that doesn't alter your score in any way.