You lost your debit card somewhere in between your third errand and your house; we've all been there. While your physical card may be gone, you can still ensure that no one gets a chance to make a fraudulent purchase with your card thanks to the Prevail Card Manager app.
The Prevail Card Manager app allows you to take full control of your Prevail Bank debit card. But not only does this app allow you to turn your card on and off, it allows you to set spending boundaries, receive alerts on large purchases, and more.
With the Prevail Card Manager app, you can enjoy the following features:
Detect unauthorized transactions by enabling card alerts
Restrict your card usage to pre-determined location ranges
Manage your spending habits by creating usage limits and controls
Prevent fraudulent activity by using the Card On/Off feature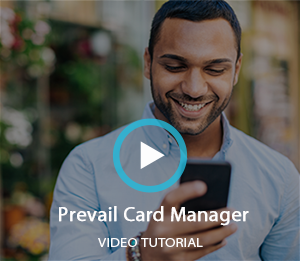 You must be enrolled in Online and Mobile Banking, and have a Prevail Bank debit card to use the Prevail Card Manager app. The app is available for both Apple and Android devices. Choose the app store for your device below to begin the process of downloading the app.