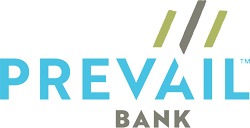 Welcome to Prevail Bank!
Local banking for here, from here.
Who we are
Prevail Bank is the best of both Time Federal Savings Bank and River Cities Bank. We are a bank with over 85 years of rich history within our communities. This merger and re-brand has allowed us to offer more products and services to you, at all of our locations.
Expand our mortgage services, offering both in-house short-term loans and long-term secondary market loans
Grow our business banking and lending options to all 9 locations
Offer upgraded Digital Banking services for both business and personal needs
Providing the convenience of more locations; Baraboo, Eau Claire, Marshfield, Medford, Owen, Phillips, Stevens Point, Wausau and Wisconsin Rapids
See our new website below for more!
Learn more about us!
We're excited to introduce our customers and communities to Prevail Bank, a new bank name with familiar faces. Watch our brand video to see what we're all about!