Business Resource Manager
Business owners are always trying to maximize efficiencies. Business Resource Manager offers Online and Mobile Banking options to offer more than our standard Digital Banking experience for business owners. A fraud prevention system is available to protect against check fraud and verifies deposited check information.
To learn more about the functionality of our Business Resource Manager service, follow along with the videos and click-thru demos below. To sign up for Business Resource Manager, please call or Contact Us.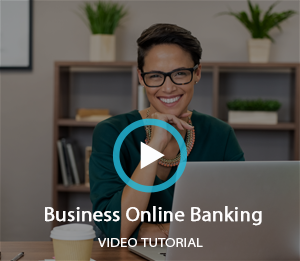 Basic Business Resource Manager
Our Basic Business Resource Manager includes the essentials. Keep on top of your finances with the help of the following features:
Access for multiple users
Ability to transfer funds between accounts
Enhanced security
Allow multiple users to have access and security rights of your choosing
Premium Business Resource Manager
Our Premium Business Resource Manager includes the essentials, with extras. Enjoy running your business with the following features:
All Basic features
ACH service
Payment/Payroll files
Wire transfer service (normal wire fees apply)
Move funds between your accounts at other financial institutions
Business Resource Manager Mobile
It's not always convenient to do your business banking from your workstation, and we get that. That's why we offer Business Mobile Banking. Take a tour through this convenient system using the video and interactive click-thru demo below.
To download and use Business Resource Manager on your mobile device, speak with a Prevail Bank representative today to enroll.
Enhance your Business Resource Manager Experience
Positive Pay
Positive Pay is a fraud prevention system offered by the bank to protect against altered, forged, and counterfeit checks, along with ACH filtering & blocks, and account reconciliation.*
Protects against check and ACH fraud
Easily transmits your check register to the bank
Set custom ACH authorization rules
Full implementation with Business Resource Manager
Remote Deposit
Your time is one of your most valuable assets as a business owner. Save that time by making your bulk deposits without leaving your office. With Remote Deposit from Prevail Bank, you are able to do so.* Talk with a banker today to see how we can provide just a little extra time in your day.
Bill Pay
Pay your bills with ease!* With our Bill Pay feature, you can make multiple bill payments, set up one-time and recurring payments and create automatic bill reminders all from your Business Resource Manager account. Your payments clear faster than waiting for payments to arrive by mail, and emailed bill reminders ensure you never miss a payment!
* Additional fees apply when adding Positive Pay and/or Remote Deposit to Business Resource Manager.
Note: Business Resource Manager is required to have Positive Pay, Remote Deposit, Bill Pay, and Business Mobile Banking.