Posted On: September 1, 2021 by Prevail Bank in: Business
As a business owner, it's beneficial to be proactive in your business strategies vs. reactive.
Being proactive with your business strategy means anticipating industry trends, whether it's a challenge, new threat, or an opportunity. Where a reactive business strategy is in which a plan becomes created to manage an unforeseen situation. With the fast pace of change in today's society, it's beneficial that business owners be aware of and on top of...
Read More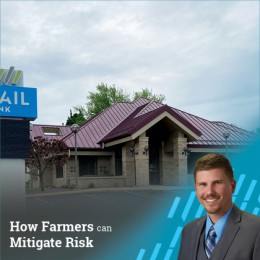 Posted On: June 1, 2021 by Prevail Bank in: Business
There are several risk factors to consider outside of production alone to produce a flourishing farming business. These areas include but are not limited to production risk, price or market risk, financial risk, institutional risk, and human risk. Preparing for the unknown through proper risk management of these areas mentioned is something every farmer should consider. The farming landscape is ever-changing, and limiting uncertainties through risk management planning is helpful...
Read More