Posted On: March 1, 2022 by Prevail Bank in: Home Loans
When you build home equity, you're growing your total net worth. In our latest MLO feature blog, Mike discusses what equity is, why it's good, and 5 ways to build equity in your home.
What does equity in a home mean?
Home equity is the difference between the balance on your mortgage and the current value of your home. For example, if you have $225,000 left on your mortgage and the present value of your home is $310,000, you have $85,000 of equity in your home.
Is...
Read More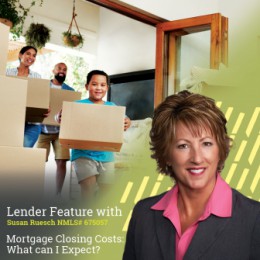 Posted On: December 1, 2021 by Prevail Bank in: Home Loans
Mortgage Closing Costs: What can I Expect?
You found the perfect home, saved for a down payment, and applied for a mortgage. Now it's time to finalize the paperwork and pay the mortgage closing costs. But what types of expenses might you incur in your closing costs?
Sue Ruesch, NMLS #675057, Wisconsin Rapids Mortgage Lender, provides possible expenses you may incur in your home closing costs, helping you better prepare.
Origination Underwriting/Document Prep Appraisal Credit...
Read More