Small Business Administration Partner
We proudly partner with the Small Business Administration (SBA) to provide loans that can help small businesses overcome the barriers associated with starting or maintaining a business, and navigating through challenges. We offer links below that will take you directly to resources provided on the SBA website.
Apply for PPP Online
If you had received a PPP loan from Prevail Bank in 2020, you may be eligible for a Second Draw. Many of the eligibility rules from last year are the same, and our lenders will be there to guide you through the process. One important difference to note: your business must document whether gross revenue in any quarter of 2020 had declined by 25% or more, as compared to the same quarter in 2019.
In order to make the entire lending process as efficient as possible, we have adopted an online application portal, providing businesses with a more user-friendly process, whether it's for your first draw or second draw. This online system allows our lenders to review the information you provide, and then send it electronically to the SBA for approval.
PPP Loans - First Draw
PPP Loans - Second Draw
PPP Loan Forgiveness
Other SBA Options
As a Small Business Administration partner, we're doing our part to assist in your business needs. We offer additional information for small businesses needing assistance and relief within the pandemic.
Contact your local Prevail Bank Business lender to discuss your business needs, and to see how we can help your business prevail.
Keep your Business Safe Online
As a business owner, it's crucial to mitigate any risk that your business may face. As much of business is currently done online this day and age, it is especially important to monitor your digital security. We offer additional resources in our Prevail Today Blog, as well as in our FAQ Answer Center. If you have any additional questions regarding our specific digital banking software, please reach out to our team at 800.205.0914.
Multi-Million Dollar Deposit Insurance Coverage Options
Prevail Bank is insured by the Federal Deposit Insurance Corporation (FDIC), which allows us the ability to guarantee the safety of your money within the FDIC guidelines.
If you are looking to deposit funds over the FDIC limit of $250,000 per entity, we offer Certificate of Deposit Account Registry Service (CDARs) for CD balances and Insured Cash Sweeps (ICS) for Checking and Money Market balances that are in excess of the FDIC limits. Both CDARs and ICS allow depositors to work with Prevail Bank, who then partner with other participating CDARs and ICS Banks. These options make it easy for you by working with just one bank, one rate and one statement with all of your funds information. Learn more about our CDARs and ICS services by visiting the Promontory Intrafi Network website, by contacting a Prevail Business Banker, or by watching our video below.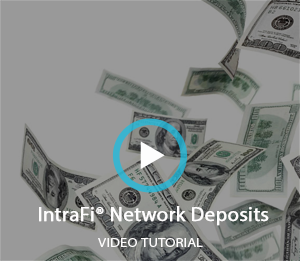 Working with Quicken + QuickBooks
If you are a new user, or want to convert your banking transactions to Quicken or QuickBooks, simply export your Prevail Bank transactions from your Online Banking account and import into your Quicken or QuickBooks account. Get in touch with a Prevail Bank business representative today to learn more.