Posted On: April 1, 2023 by Prevail Bank in: Home Loans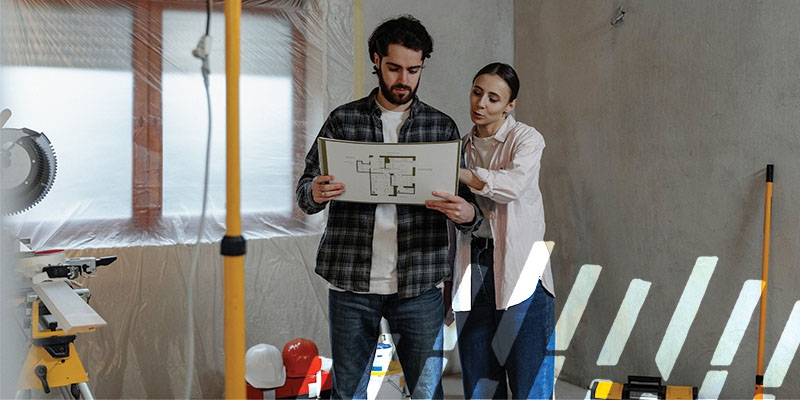 What should be taken into consideration when remodeling a home?
Remodeling a home can be an exciting and rewarding experience, but it also requires a considerable amount of time, effort, and money. Carefully consider the pros and cons of remodeling before taking on such a project. Homeowners typically consider remodeling when their current living space no longer meets their needs, or if they want to make improvements that will increase the value of their property.
What are the Pros and Cons of Remodeling?
Remodeling has both advantages and disadvantages. On one hand, remodeling can improve functionality in certain rooms by making them more spacious or adding features that weren't previously available. Additionally, renovations may help increase the overall value of the property which could be beneficial when trying to sell it down the road.
However, there are some drawbacks associated with home renovation projects as well; these include costly materials and labor fees associated with the work being done, as well as the disruption caused by having rooms unavailable for an extended period, in addition to construction workers going in and out of the home throughout the day.
What Provides the Greatest Value to A Home?
Renovations that increase convenience and curb appeal are popular. The rooms that generally provide the greatest return on investment or resale value are updated kitchens and bathrooms. Just updating the outdated appliances alone within these rooms may provide an extra boost in resale value, as well as giving the current homeowner access to more modern amenities without the need of extensive structural changes.
Other things, like adding a deck or patio, updating the landscaping, and replacing old windows and doors can also add value. Other factors/options that provide energy efficiencies should be taken into consideration too, since these types of upgrades could save you money over time due to lower utility costs each month.
Increasing the value of a home builds home equity and total net worth. Mike Bergman, Prevail Bank Mortgage Loan Originator, NMLS# 2063416, provides his tips for building home equity.
What Are the Most Inexpensive Ways to Remodel for the Biggest Value?
One great way for those with limited budgets to maximum the return of their residential investment is to incorporate cosmetic updates, rather than a complete overhaul (gutting and redesign) of an entire area. This includes things like painting walls & ceilings (which can instantly brighten up dark spaces), replacing old hardware fixtures on doors & windows (for added security), installing new flooring (like laminate wood planks) instead of carpeting - all at relatively low costs compared to larger-scale projects that involve knocking down walls or replacing cabinetry. Another option would be focusing on outdoor landscaping which not only adds charm but also increases curb appeal significantly. This could include planting flower beds around walkways/driveways plus adding outdoor lighting displays leading up to a homes' front door.
What Are the Best Practices Relating to a Remodel Project?
Before starting any kind of major renovation project, there are several key items homeowners need to pay attention to:
First off, they need to check local zoning codes regarding what kind of changes are allowed within the area they live. This helps avoid running into unexpected issues later once work begins. The current homeowner's insurance company should be contacted too. Some remodels, IE; adding a wood-burning fireplace, may nullify the policy.
Second, a homeowner should create a realistic budget, utilize the high-end figure for labor and material costs, and set aside additional funds to cover unanticipated expenses that come up during the job. The unexpected always occurs.
And finally, research contractors thoroughly; get references from past clients. Homeowners need to ensure the contractor they choose can meet the quality standards they set. Get all expectations in writing before signing any agreement.
The above steps help ensure a successful completion of a renovation project, while avoiding unnecessary surprises along way.
How Does One Pay for a Renovation Project?
Cash is the least expensive way to pay for home improvements. There are no interest charges, origination fees, or repayment periods. A 2021 Bank of America survey found that 62% of homeowners making significant changes to their home planned to use savings to pay for them. But what if a savings account isn't an option?
A home improvement (home equity) loan, or a HELOC may be your answer. A home equity loan is essentially a second mortgage, because for the lump sum of money received, the home is used as collateral. Which means, the homeowner now has a second payment to make on top of, in addition to, their primary mortgage.
A HELOC, which stands for Home Equity Line of Credit, is a revolving line of credit – like a credit card. It too uses the home as collateral, but instead of borrowing a large sum of money all at once, the borrower borrows a portion of this sum when she/he wants it, for whatever they wish to use it for (which may or may not be for home improvements.) The borrower pays interest only on the funds used.
For months, maybe years, a homeowner might not tap into their allotted HELOC funds; that's okay. It is their prerogative. But for this on-going convenience, be aware there may be ongoing fees and prepayment penalties. It's important to note too that HELOCs generally have adjustable interest rates that move with the market. So, as the market goes up, so does the interest rate of the funds borrowed.
To truly understand what your financial options are, consider making an appointment with a creative mortgage solution professional at Prevail Bank. Its Mortgage Loan Originators will talk through all the options available to you, the pros and cons, and help secure a solution that is right for you and your home remodel needs.