Posted On: April 19, 2022 by Prevail Bank in: Banking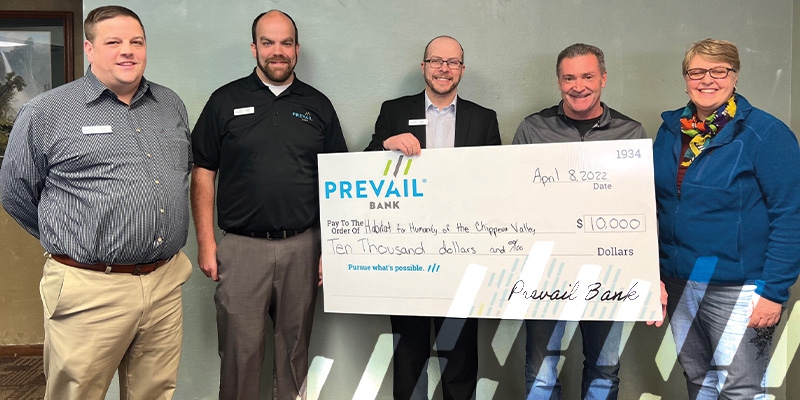 At Prevail Bank, our goal is to help our customers, communities and employees pursue what's possible. Being a community bank means that we are always looking for ways to enhance the quality of life in our surrounding communities. We believe that through the power of donation, we can continuously play a part in the success of local organizations, and in the community as a whole. Those organizations that applied and received a Charitable Contribution this spring are listed below.
It warms our heart to be able to contribute and assist so many!
Habitat for Humanity of Chippewa Valley
Prevail Bank donated $10,000 to Habitat for Humanity of Chippewa Valley. The donated funds will purchase materials needed to build low income housing for families in need of stable, safe and affordable housing.
Baraboo Area Homeless Shelter
Seven-thousand-five-hundred dollars ($7,500) was provided to the Baraboo Area Homeless Shelter to help cover the operating and utility expenses, excluding salaries, of the homeless shelter located at 1200 Silver Circle.
Northcentral Technical College Foundation
A donation of $500 was made to the Northcentral Technical College Foundation. The donated funds will help cover tuition expenses of a low-to-moderate income college student.
Northwoods Players Community Theatre
Prevail Bank donated $5,000 to the Northwoods Players Community Theatre (NWP). The donated funds will help cover the expenses of sound-proofing, refinishing the stage, and LED lighting of the Phillips High School Auditorium.
Wisconsin Rapids School District
A $5,000 check was presented to the School District of Wisconsin Rapids. The donated funds will help build a destination ball diamond, a quadplex, with two baseball and two softball diamonds, that will generate revenue for the community as northern Wisconsin high schools play there to complete their spring sports schedule, in addition to Division 3 colleges.
Stetsonville Elementary School
A donation of $1,000 was made to the Medford Area School District to purchase outdoor play and learning structures for Stetsonville Elementary School (SES) and the citizens of southern Taylor, and northern Clark Counties. The vision for the outdoor area includes all-inclusive playground equipment, musical equipment, basketball hoops, and a pickleball court.
Evolving Wellness
Prevail Bank provided a donation of $1,000 to Evolving Wellness in support of their teen center and free teen resilience programming. The programming assists those who are struggling with personal identity issues, depression, bullying, and other societal factors.
Fall Creek Area Foundation
Through our Charitable Contribution program, we donated $2,500 to the Fall Creek Area Foundation in support of a new youth ball field that will be constructed in Keller Park.
Friends of Baraboo Park
Prevail Bank donated $3,500 to the Friends of Baraboo Park to support the building of a splash pad in Attridge Park. This investment promotes and builds community pride, quality family time, and a potential economic boost to the community due to desirability and appeal of this new amenity.
Wisconsin Rapids Boxing Club
The Wisconsin Rapids Boxing Club received a $500 donation. We are proud to support the Wisconsin Rapids Boxing Club because their one-on-one mentoring and coaching enhances the aptitudes needed to be successful in life — confidence, self-discipline, a better outlook on life, and the values of hard-work and respect.
Phillips Moose Lodge #2661
Five-hundred dollars ($500) was donated to the Phillips Moose Lodge so a chrome book could be purchased, loaded with educational programs, and then raffled at a Children's BINGO event during Phillips' annual Fall Festival. The Lodge provides each child an age-appropriate book at their BINGO events. They work closely with the Phillips Public Library and the schools in Price County promoting literacy.
* * * * * * * *
Prevail Bank's Charitable Contributions program is available for local non-profit organizations in the communities we serve, to help local people in need and provide more to our communities. If your organization is interested in applying for funds for a major initiative in your community, please review our Community Giving webpage.