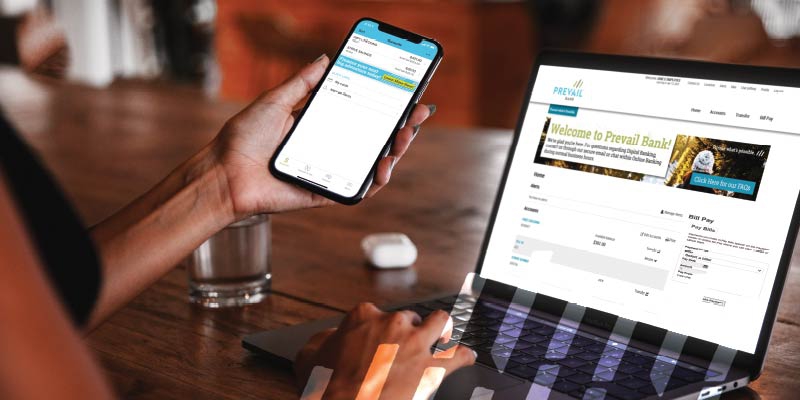 Digital banking gives you more...
More time to do what you enjoy
Account access & Flexibility
Security & Peace of mind
Auto Pay – Set it & forget it.
Auto Pay is perfect for bills that stay the same each month, IE: car payments, mortgages, cell phones and cable bills.
It not only saves time; it can help avoid missed payments. To set up auto pay just tell us about the payment, including the amount, delivery date, frequency, duration and how you'd like to be notified. We'll take care of it automatically from then on.
Spend your time doing more of what you enjoy.
Eliminate the hassle, time, and expense of envelopes, stamps, and late mail deliveries.
With Online Bill Pay you can pay all of your bills, that you didn't establish with auto pay, in one place, with one password, in one day.
If your payee doesn't accept electronic checks, our service will mail them paper checks.
Forgot your checkbook? Pay with your smartphone.
Through Digital Wallets, you can access your account/funds when you need it … when you add your Prevail Bank debit card to your smartphone's digital wallet.
When you add your Prevail Bank debit card to your smartphone's digital wallet, you no longer need your physical debit card at participating merchants. It saves you time at the register, and you gain additional peace of mind that your financial privacy is securely intact. How so? Because your smartphone will require a facial ID, fingerprint, or Passcode authentication, your information and funds are safe and secure.
You must have a Prevail Bank debit card to use the digital wallet feature. This feature is available for Apple, Android and Samsung mobile devices. Participating merchants will have the icon displayed below where digital wallet payments are accepted. Choose your smartphone manufacturer below to learn how to add your card today!
You don't have a Prevail Bank debt card?
All of Prevail Bank's checking accounts and HSA accounts come with a MasterCard® debit card to allow you to make quick purchases online and in person. Start the account opening process by completing our online inquiry.
Deposit Checks Wherever You Are!
You can use the Mobile Deposit feature to deposit your checks — even from your living room!
Endorse your check.
Add "for mobile deposit only" below your signature.
Tap on the Deposit tab within the Prevail Mobile Banking app to get started.
Select the account in which you would like to deposit your check.
Enter the amount you would like to deposit.
Finish by taking photos of both sides of the check.
Easy as 1, 2, 3!
Obtain more peace of mind & security, with our Alerts for Online Banking.
Alerts for Online Banking are only available through Prevail's digital banking service. They keep you informed regarding your account's activity. For example:
Want to know if a purchase over $1,000 was made using your account?
Want to be alerted when you've been paid for the week?
Want to get a notification when information is changed within your account?
You also have the ability to prevent fraudulent activity by turning your debt card on & off with our Prevail Bank Mobile Banking app. With our free Prevail Mobile Banking app, you receive:
Personalized money management insights
Set up expanded real-time account alerts
Multi-factor authentication
Add cards to your mobile wallet within the app
Learn more about our Digital Banking products and services through our videos and click-thru tutorials in our Personal Education Center!