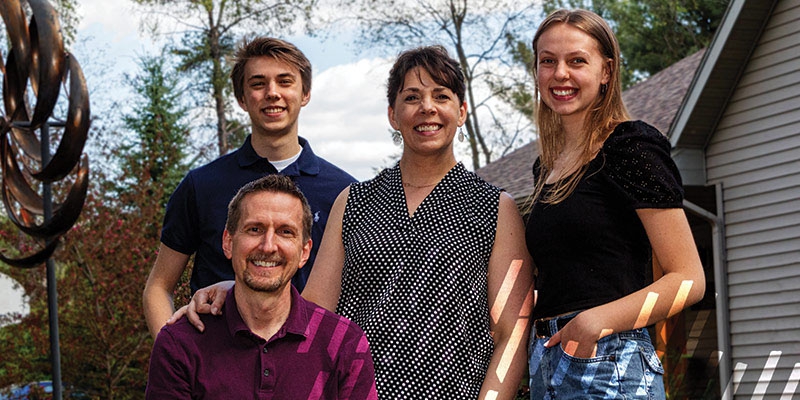 Real local people pursuing what's possible
Marsha VanArk, a Stevens Point native, knows the value of relationships and helping the local community succeed. As a wife, mother of two kids, and the owner of an expanding business for the past 12 years, working with a bank she can trust to guide her along her financial journey, both personally and professionally, gives her peace of mind.
The Stevens Point staff is "incredibly helpful and kind," giving Marsha the small-town bank feel she values. This Stevens Point home loan testimonial shows why putting our customers first and developing a lifelong relationship is something we value.
"They're here for my journey"
Marsha first came to Prevail Bank for her home loan needs. Her journey with our Stevens Point Mortgage Lender, Dawn Klesmith (NMLS# 681860), gave her peace of mind and the confidence to work with us for her other banking needs.
What began as a place where she financed her home mortgage, has grown into a deeper relationship between Marsha and our staff at the Stevens Point location. First, with her personal checking account, stating, "Liz provides spot on and super helpful customer service," to most recently the business banking accounts for her successful wedding planning business.
Our banking staff provides her with advice and recommendations as she looks to expand her business, making it easier for Marsha "to do what I love, where I love."
New technology helps support expanding business
The business and banking landscape is ever-changing; we get it. That's why we seek to advance our technological opportunities and efficiencies, providing Marsha with the tools she needs to help reach her goals.
Our growing technology services provide her business with a more fluid process for her business' bookkeeping needs with QuickBooks. These helpful and time-saving services allow her to focus on her business and family more.
for Prevail Bank
As a recommended wedding planner, Marsha knows the value of positive word-of-mouth referrals, and recommends Prevail Bank to anyone looking for help along their financial journey.
Being your local community bank, we value the importance of providing quality customer service and easy banking. By continually improving the products we offer and fostering a lasting relationship with our customers, we seek to become your financial advisor, helping you reach your goals.