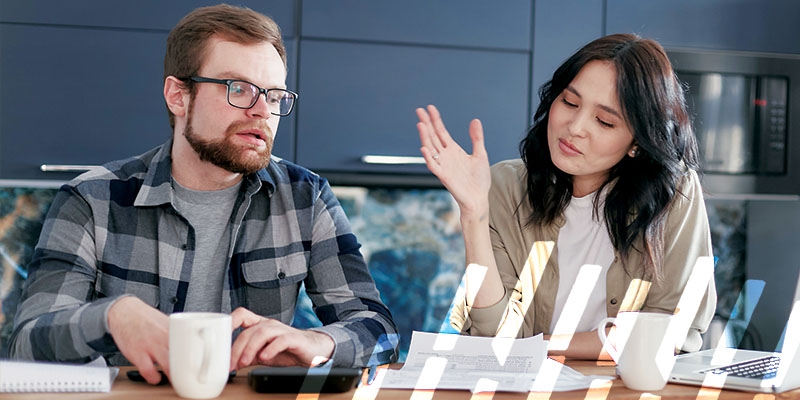 With costs on the rise due to inflation, many people are having a tough time making ends meet. This obviously puts a strain on savings and makes it difficult to be prepared for winter, the holiday gifting season, and unexpected emergencies. Here are tips that may help you.
The average home in the US spends more than $2,000 a year on energy; 55% of that is for heating and cooling. Midwest winters can be freakishly cold. All joking aside,
How can you reduce your heating bill?
Lower the thermostat.
According to Novak Heating, if you lower your thermostat by one degree, you can save up to 3% on your heating bill. Energy.gov says if you turn your thermostat lower still, by 10-15 degrees, for 8 hours a day, it will reduce your energy usage by 5-15%! Programmable thermostats, ranging from $30-$170, can help you achieve this. Program a drop to occur while you are asleep and when you are not at home.
Turn down your water heater.
Manually reducing your water heater's temperature to 120-degrees Fahrenheit (down from the typical 140) can save from 4%-22% annually. The California Energy Commission says cutting your time in the shower by 50% can save you up to 33%.
Use ceiling fans.
Heat rises, but if it stays up at the top of the room, it is not helping you. Adjust your ceiling fan to spin clockwise and you help move all that trapped heat down.
Change air filters / furnace filters.
It makes a difference. Replace your furnace filters according to the package directions so your heating system does not have to work so hard to push air through. The dirtier and harder it is to push air, the higher the energy usage. The higher the usage, the higher your bill.
Consider insulation.
According to Ramsey Solutions, you can save, on average, up to 15% when you insulate your attic and crawl spaces. Correctly installed insulation, especially when made of quality, professional-grade materials, is a significant benefit to your home's air quality too. It acts as a defense against many common allergens and even helps your heating, ventilation, and air conditioning (HVAC) system keep your home's air quality clean.
Close your curtains.
About 30% of heating loss in a home happens through the windows. Thick curtains and shades can help you keep the warm air in. If it is sunny, open them and heat your home the old-fashioned way, but be sure to close them again once it gets dark or cloudy.
Seal air leaks.
Stating the obvious here but, stopping frigid air from entering a home is the simplest way to reduce heating costs. Start by replacing worn weather stripping, adjusting door thresholds, and sealing cracks around doors, windows, and electrical. And when not in use, keep your fireplace damper closed.
Close unused vents & shut doors of unused rooms.
If you do not use the guest bedroom or bath, close the door and vent. That is one less room your HVAC must heat.
Clear space around your air vents.
If there are rugs or furniture in front of your air vents, heated air will not circulate properly. Blocked vents cause your HVAC system to work harder, causing a strain, which could lead to decreased performance and costly repairs down the road.
Consider an electric blanket.
Modern electric blankets are most certainly an option. They are much less expensive to use than a space heater, gas fireplace, or central heating. They keep a person warm and cozy, even in extremely cold rooms. But do not use them if they are outdated, damaged (has pinched or twisted internal connections), on wet bedding, with a mattress that has a heating pad, or with materials that are flammable. Avoid use on bunk beds and waterbeds too.
Call your power company
Some utilities offer cheaper rates during those parts of the day when usage is down. If your power company has a time-of-use rate plan, you could spend less on electricity by doing laundry and other energy-intensive chores at off-peak times. Call your power company and ask if they have such a program. You have nothing to lose and everything to gain.
For those who qualify, the Wisconsin Home Energy Assistance Program (WHEAP) can assist households with their heating and electric bills. There is also something called crisis assistance. The 2023-2024 income guidelines, additional information, and applications are posted on its website: https://energyandhousing.wi.gov/Pages/AgencyResources/energy-assistance.aspx A sneak peek at the published income guidelines (60% of state median incomes) are:
Household size of 1 ----- one month income: $2,820.67 ------ annual income: $33,848
Household size of 2 ----- one month income: $3,688.58 ------ annual income: $44,263
Household size of 3 ----- one month income: $4,556.50 ------ annual income: $54,678
The chart goes up to a household size of 8.
Winter also means the holidays are right around the corner. It is typically a time for reflection, giving thanks, and spending quality time with loved ones. For most folks, gifts are exchanged. But, gosh darn it, money is tight!
What can you do to minimize your gift giving cash outlay and still provide something special?
Budget.
One way to keep your holiday gifting under control is to set a spending limit for all your family and friends who are giving each other gifts. If everyone is spending the same amount, no one will feel like their gift is worth too little or too much. Or, to create your own gift-buying budget, create your categories first: Family, friends, teachers, neighbors, service providers, etc. Then, set dollar amounts for each category. Divide that number by the number of people in that category ---- that is your budget per person per gift.
Make a homemade gift.
Making your own gifts is not always a money saver, but generally, it will be. If you have talent, use it. Make a hand-written card, a scrapbook, an apple pie, homemade bread and jellies, an acrylic art piece, a no-sew fleece tie blanket… Ideally, the item should bestow or evoke a special meaning or memory, something personal to the receiver. Pinterest has a ton of ideas and instructions!
Provide a service – The gift of time.
Make a faux certificate that offers a service they would appreciate, IE: A thorough house cleaning on the day of their choosing, membership to your dessert club (You make a homemade dessert of your choosing and delivery it to their home; the frequency is up to you.), an evening of babysitting, one extended weekend of dog sitting, an afternoon of helping with anything, a homemade meal …. Most people would pay money for these items and being able to offer it as a gift is extremely thoughtful and would certainly be appreciated. Faux certificates can be found online.
Pull together inexpensive, themed gift baskets.
The ideas are endless. But be careful not to continually add items to your basket or you defeat the purpose of saving money.
Idea #1 - Dinner basket: Go to the dollar store and pick up a basket, pasta noodles, and pasta sauce. Add a bottle of wine (under $10) from the grocery store, and for extra fun, add three $1-5 scratch-off lottery tickets from the local gas station.
Basket idea #2 - 'I couldn't have picked a better _____" : (Insert a job title in the blank, IE: teacher, boss, sitter) Fill a little corrugated berry basket with anything berry scented and berry related like lotions, hand soaps, lip balms, candles, a jam, or jelly. Many items could be purchased at that Dollar Store
Idea #3 – S'mores basket: This basket could be ideal for a male teacher or co-worker. Include the traditional items, chocolate, marshmallows, and graham crackers. Keep in mind you could 'spice' it up some; chocolate bars and graham crackers come in assorted flavors. Related items to help fill space could be Nutella, caramel sauce, rice crispy treats, and wet wipes.
Draw Names.
Expenditures can really get out of hand if the expectation is to buy for everyone. Suggest to the group that names be drawn. It allows you to have the fun of giving to each other without totally breaking the bank. Or, if this is a family affair, suggest providing gifts for the kids only. Many older adults are well-established and don't 'need' anything.
Family Gifting.
Family gifts are a fun idea. Instead of each person exchanging gifts, each FAMILY exchanges gifts and gives something that the whole family can enjoy. It could be a food-related item, a game the whole family might enjoy, or an experience gift.
Go in on a group gift.
If a group of individuals are buying an item for the same person, pool your funds to buy one big item. This works well for siblings purchasing a gift for their parents, teammates contributing toward a nice gift card for their coach, in addition to teachers (if you have the emails of all the parents in your child's class).
Buy with discounted gift cards – Save extra when shopping online.
They do exist – discounted gift and VISA cards! You can buy gift cards online for less than their actual value. Use them to your advantage. Purchase a gift item during a sale and use the gift card as payment. Or, if you buy a bunch of gifts online, consider shopping through Rakuten, RetailMeNot, or a similar vendor that allows you to earn a percentage back for your online purchases. You can use coupon codes on your purchases too to get maximum savings.
Re-gift.
Regifting has a negative connotation, but it doesn't have to be that way. The gift that will soon be repurposed was a thoughtful and considerate item. And it still is. If you just have not gotten around to using that gift card on yourself, or if you haven't worn the fuzzy slippers you received from your sister because you already have two pair, or if the sweater you purchased for yourself has yet to be worn --- re-gift it! No one needs to know it has been sitting in your closet for months. Of course, make sure the tags are attached, that is it something the receiver would really like, and you are not giving it back to the person (or to someone within the same family) who gave it to you!
Say no to random gift exchanges.
Put an end to the white elephant or junk-for-junk gift exchanges at your work, small group, or book club. The holidays are expensive enough without these social pressures. Be kind, but just say no (thank you).
It is understandable that you want to be generous with those you are giving gifts to, but at the same time, if you're trying to stay on your feet financially, it isn't a good decision to buy expensive gives you can't afford. Utilizing one or more of the tips above, should help you have a fiscally comfortable holiday.
Many people are dipping into their savings to cover the increased costs of daily essentials, which really puts a person into a bind when suddenly there are no funds to fix the car that broke down or the furnace that stopped working late one winter night. Now what do you do?!
Where are you going to find the emergency funds?
Emergency loans.
An emergency loan can be in the form of a personal loan, credit card cash advance or payday loan. It is important to understand how they differ from one another and what you can expect to pay.
Personal loans are a form of credit. You could be approved and receive your funding all within the same day or next – especially if you choose to work with online-only lenders. Interest rates range from the single to double digits, depending on your credit score. Some short-term personal loans may be available if you have bad credit, but anticipate very high interest rates – these lenders charge annual percentage rates (APRs) in the triple digits. Shop around!! Most lenders will allow you to repay the debt over several years too, so you don't have to worry about coming up with an immediate lump sum payment.
If you have a credit card, you may be able to acquire your available credit in the form of a . The interest rates for these cash advances vary from card to card and can be high. Interest starts accruing immediately too! There is no grace period. An upfront fee (which is a percentage of the advanced amount) is common place as well. Despite these drawbacks, a cash advance may be a descent option if you have bad credit.
Payday loans are short-term loans with incredibly short repayment terms – typically 14 days --- and exorbitant interest rates. The average APR is roughly 400%, combine this with the short repayment expectation, it is extremely difficult to pay off the loan without taking out a new one. Experian.com recommends avoiding payday loans all together.
Pawn shop loans, otherwise known as collateral loans, provide a loan amount based on the value of an item you give them, IE: jewelry, a TV, or musical instrument. Pawn shops lend usually only 25% to 60% of the resale value of an item. If you don't repay the loan as agreed, they keep the item and resell it to recoup their losses. The average amount a pawn shop lends is $150 according to the National Pawnbrokers Association. You typically have 30-60 days to repay it, plus a borrowing fee.
0% ARP credit cards.
For those with good or excellent credit, you might be able to acquire a new credit card that offers an introductory 0% APR promotion. If you have the luxury of multiple options, compare. Pay off periods differ and can range from six to 20 months; some may or may to have the ability to expedite the card and/or provide you with instant access to your credit card information. You will want to try to pay off the debt before the promotional period ends, to avoid the big jump in the interest rate.
Home Equity Line of Credit (HELOC).
If you own your home, you could prepare for such situations and arrange now for a Home Equity Line of Credit (HELOC). A HELOC allows you to borrow funds against the equity in your home. Once you have a line of approved credit, you can borrow some or all of the pre-approved funds when they are needed. Of course, you must pay the funds back in a timely manner, but at least there aren't any additional closing costs every time you utilize the funding during the term of the HELOC. (Prevail Bank's HELOC has a 10-year term. Which means, you can borrow money from this line of credit, pay it back and borrow again, over and over again, during that 10-year term.)
This line of credit is great for emergencies or when you want to complete planned remodeling projects. You are not obligated to use it; you can just let it sit and use it only in the case of an emergency.
HELOCs are not the answer for everyone. There is typically an initial set-up fee and annual convenience fee. It is also important to be aware that your house is your collateral. If you fail to pay back the debt, you could lose your home; fortunately, most HELOC's have a long repayment period. Shop around; interest rates, terms, and fees vary from institution to institution.
If you would like to be proactive and get one established or just want more information, visit with a Prevail Bank Mortgage Loan Originator. It does not matter with whom your home loan is through, Prevail Bank can still help you get a home equity line of credit, assuming there aren't any extenuating circumstances that preclude the option.
Prevail Bank has nine branches throughout central Wisconsin. Call 800-205-0914 or go to: www.prevail.bank to find the location near you.
Friends and family.
Asking friends and family for money should not be taken lightly. They are doing you a favor, a favor that will most likely have a more favorable repayment plan with less interest than the suggestions listed above. The ask will be awkward, especially if you have a hard time with repayment. But it could be worth the discomfort to avoid a more expensive option that could make your financial situation worse.
Area nonprofit programs.
Take time to search community centers, churches, and other organizations in your area that may be able to provide some immediate relief with your bills. There are nonprofit organizations willing to help people cover utility bills, rent, food and other necessities while you address your immediate financial needs.
For most of the suggestions listed, to pay off the emergency debt, an additional side job will be needed. There's nothing wrong with having debt, but if you still have it when the next emergency hits, it can make it even more challenging to get the help you need.
If your employer has a direct deposit option and if you can financially make this happen, have a small percentage of your weekly paycheck go directly into a new savings account (aka: your new emergency fund) and don't touch it. Look for ways to cut expenses from your daily living so you can set more aside into this account for the unforeseen.
Finding and saving money during a period of inflation and a season of gift giving can be daunting, but possible. We hope the tips provided above will help you prevail.